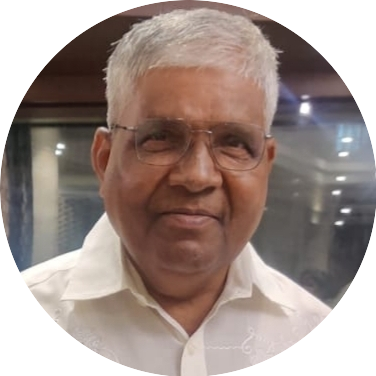 CHAIRMAN – DASHARATH VITHOBA POKALE
Message From Chairman's Desk
We started on this journey of KALIKA in 1980 with a small team and a big dream in India.  In the journey of 43 years there have been tremendous highs and lows, extreme challenges and great learnings. Today we can proudly say that "KALIKA" has become renowned brand in Extrusion Machine in India & worldwide.
We take pride in being one of the pioneer engineering firms in India having achieved remarkable growth over the last four decades and contributing significantly to the development of extrusion machine industry in India and in globe.
The company has attained prominence as a leader in the field of PVC Blown Film Plants through competence, competitiveness and timely delivery with highest quality standards and recognized safety performance. We have a long tradition of serving our valued customers to their complete satisfaction through efficient management and excellent workmanship which we continue to maintain with our untiring efforts.
Today our company offering not only PVC Blown Film Plants but also we have entered into PET/ PP/ HIPS / PC / LD Sheet Plants. In last four decades, we have sold more than 500 extrusion plants to our valued customers in India and out of India.
A lot has been planned and a lot of it executed, we are a very subtle organization and we like to create examples from our work, we are more practical than any industry providing our scope of services. We are expanding and will continue to do so, we continue to add new partners to our business and we continue to improve our division services.
Over the 40 plus years that we have been in business. We would like to thank our India Government for providing world-class infrastructure wherein opportunities were plentiful. Their vision and support has played a vital role in our growth so far and will remain going forward.
Finally, we would like to thank you for visiting our website. We hope the website has been able to profile our company and we hope our products and services may be of your interest. We personally assure you of our best services at all times. We are always open for the suggestions and recommendations from our customers.
Company Profile
We commenced our operations under the banner of KALIKA since 1980. The group is well known for its fast growing achievements in manufacturing of Plastic Extrusion Machineries.
Kalika Group under its roof has 3 flagship companies dealing in different activities like PVC Blown Film Extrusion Machineries , PVC Compounding Machineries , PET/HIPS/PP/PC/LD Sheet Extrusion Machineries , Plastic Recycling Plants , Plastic Machine Accessories etc.
Kalika Group of Companies :
1. Kalika Engineering
2. Kalika Extrusions Pvt. Ltd.
3. Savita Plastics
Background & Inception of the Kalika Group :
1980 was the year , when Kalika Group commenced its operations at a small rented factory in Goregaon in total area of 200 square feet. Shri Dasharath Vithoba Pokale left his job and started his own business into the plastic industry. In the early 80s he was doing only labour job for other big players in the market. This was going on for 10 years till the time his sons joint him in the business. In the year 1991 , Kalika Engineering manufactured its first full fledged PVC Blown Film Machine for the customer and from that year onwards slowly and steady Kalika become well known as the sole manufacturer in India for PVC Blown Film & Compounding Plants. We have sold more than 500 plants in India as well as exported to other countries. We have exported the machines to Ukraine & Hong kong . Today we can proudly say that, we  are a giant player in the manufacturing of PVC Blown Film & Compounding Plants due to our 100% success ratio.
After achieving massive success in the PVC line now , Kalika has entered in PET Sheet Line & Recycling Plants . In Sheet Line we have achieved success from the installation of our first plant itself. In the span of 3-4 years period, we have sold more than 15 machines in India & other countries namely  Turkey , Iraq , Peru , South Africa , Poland , Uganada  etc.
Thus KALIKA is the fastest growing company in every aspect of Extrusion Machineries by satisfying its customers' needs with their genuine quality products by keeping in mind the vision statement that " Become essential to our customers by providing differentiated products and services to help them achieve their aspirations "    
A Company Involved in Manufacturing & Services.
Breaking down complex business processes
Our industry professionals are able to deliver better ideas and solutions embedded with a deep understanding of each client' business and industry.
Our main motto is to produce quality product to satisfy our valued customers which growth us from the establishment the organization. We produce best quality products. In any circumstance we never compromise the quality. our best end over and commitment does not stop us to growth.